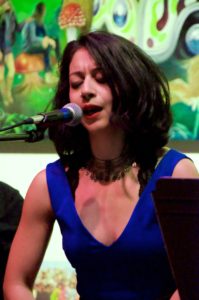 Jenny Luna's musical interests have spanned a wide array of genres. She grew up listening to the music of her cultural background: Bachata, Merengue and Mariachi, and has studied voice in classical and jazz styles. She was first exposed to Balkan and Eastern music in college and has evolved into a singer of Turkish, Balkan and Sephardic music.
She performs primarily with Dolunay, a trio performing Rumeli urban folk music of the Turkish people across the Balkans. She also sings with Seyyah (Greek & Turkish music) and Alhambra ensemble (Sephardic music). Jenny has a B.A. in Contemporary Music with a focus on Vocal Performance from the Santa Fe University of Art and Design (formerly College of Santa Fe) and currently resides in Brooklyn, NY.
Jenny, a native Spanish speaker, is also a teaching artist at One World Project, Multilingual Community Center. She works with preschool children to develop Spanish language skills through music, teaching music classes to children ages 2-5. Jenny also co-directs the One World Project Children's Chorus, working with children ages 6-8.